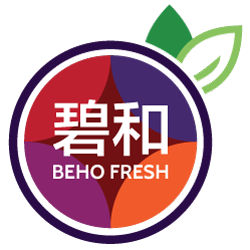 MALAYSIAN FROZEN WHOLE DURIANS BEGIN THEIR JOURNEY TO CHINA, WITH BEHO FRESH THE FIRST TO EXPORT
Putrajaya, 17 June 2019 – China's long wait for whole fruit Malaysian durians is finally over. With the recent announcement by the General Administration of Customs China (GACC) on 30 May 2019 that clearance has been given to import Malaysian frozen whole durian into the country, Malaysia's Ministry of Agriculture and Agro-based Industry (MOA) today held a flag-off ceremony to commemorate the first batch of Malaysian durians to be exported to China, with BEHO Fresh Sdn Bhd becoming the first exporter of the coveted fruit.
"We are extremely proud to be part of this historical moment for the Malaysian durian sector. We couldn't have done this without PHG Ever Fresh Food Sdn Bhd who are our durian processing partner responsible for freezing our durians according to the protocols set by GACC and the Department of Agriculture Malaysia (DOA). Our first shipment of 4 tonnes will be sent via air cargo (and subsequently by sea freight), with the frozen whole fruit durians stored in temperature-controlled Envirotainers of minus 18°C to maintain the cold chain specified by GACC for all frozen whole fruit Malaysian durians shipped to China, from the moment they leave the processing plant to their point of arrival in China, and distribution by our partners, Shanghai Ye Chen Industrial Co, Hema, Tmall, RT-Mart and Win Chain," said Sam Hoo, Group General Manager, BEHO Group of Companies.
"Since the signing of the export protocol between Malaysia and China on 20 August 2018, we have been waiting for this moment to send over our quality durians for Chinese durian lovers and lovers-to-be to enjoy. We are pleased that the audit inspection that took place in April for PHG Ever Fresh Food Sdn Bhd met every criterion of GACC's stringent inspection and quarantine protocol. Although all variety of Malaysian durians can be exported to China, we decided to prepare our premium Musang King (D197) durians for the first shipment," added Sam.
GACC imposes extremely strict phytosanitary guidelines for all companies to adhere to before they are given the greenlight to export Malaysian durians to China. Compliance begins from the durian orchard, where netting structures are mandatory for the catching of durians when they fall from the durian trees, to prevent damage and soil contamination to the fruits. Each fruit must be cleaned and tested regularly for chemicals and pesticides as part of the compliancy adherence. In terms of the processing facility, GACC requires that it must be registered with MOA, approved by GACC and processes are carried out according to the Good Manufacturing Practice (GMP) guideline, particularly the handling and the processing of the fruits where it must be cleaned, free of pests and other contaminants. Following this would be the crucial freezing process of the durians in a nitrogen freezer, where the temperature must remain between -80°C to -110°C for no less than 1 hour to seal in the freshness of the fruits. There are also other important factors that influences the approval process which are good hygiene practices at the processing facility, using new packaging materials, proper labelling of vacuumed sealed fruits and boxes, and prudent pest management.
YB Dato' Haji Salahuddin Ayub, Minister of Agriculture and Agro-based Industry Malaysia commented, "We are happy that the companies audited for approval to export Malaysian durians to China were given consent to ship their frozen whole fruit Malaysian durians as soon as they are able to. This moment heralds a new chapter for the Malaysian durian sector and the local durian economy. We hope that more companies can join in this fruitful venture in the coming months so that we can continue to grow the country's new wealth together."
Also present at the event were YBhg. Datuk Seri Dr. Ismail Bakar, Chief Secretary to the Government of Malaysia; His Excellency Bai Tian, China's Ambassador to Malaysia; YB Tuan Sim Tze Tzin, Deputy Minister of Agriculture and Agro-based Industry Malaysia, YBhg Dato' Mohd Sallehhuddin Hassan, Secretary General, Ministry of Agriculture and Agro-based Industry Malaysia; and Dato' Jamal Harizan Yang Razali, Director General, Department of Agriculture Malaysia.
– END-
Issued by BEHO Group of Companies.
For media enquiries, please contact:
Jayne Kam – 012-2590123 | jayne.kam@behogroup.my
About BEHO Fresh Sdn Bhd
BEHO FRESH was established in 2017 with the purpose of cultivating the best durian with the finest durian growers in Malaysia, specifically the celebrated Musang King cultivar, feted across Asia as the champagne sans pareil amongst the king of fruits. Our durians are traded whole – fresh and nitrogen-frozen – to local and domestic traders as well as overseas including the US, Canada, Singapore, Hong Kong, Macau, Japan and Australia. We also take pride in our ability to produce royally luxuriant durian products such as the first-of-its-kind Musang King gelato bar, various delectable frozen durian treats, durian mooncakes, durian cakes and durian white coffee which are available for local and international markets. Our current and future plantations in the Northern region in Peninsular Malaysia will be dominated by Musang King trees, the finest and most in-demand durian variety famous for its succulent flesh and gorgeous flavour profile.
About PHG Ever Fresh Food (M) Sdn Bhd
PHG Ever Fresh Food (M) Sdn Bhd was established in 2010. Our state-of-the art processing plant is located in Raub, Pahang which is synonymous with Malaysia's best Musang King durians. Our midstream processing facility consists of precise temperature-regulated storage areas, high-output blast freezers and advanced liquid nitrogen freezers. This closed-loop cold chain ecosystem allows us to meet international manufacturing practices and scale durian production as and when required without compromising on exacting export specifications. It is our mission to remain at the forefront of durian processing to ensure Malaysian durians can be shared and enjoyed by many, no matter where they are in the world.